The private rooms in this property are designed for a comfortable and spacious living space. Allows you to relax and unwind after exploring Chiang Mai or its vicinity around the city. With large windows overlooking beautiful city views. You can enjoy the vibrant atmosphere of Chiang Mai's downtown area from the comfort of your own room. The beds in the rooms come with comfortable bedding, warm blankets, and clean towels. This ensures that you have everything you need for a comfortable stay and air conditioning in the room. The property also has a shared bathroom to use. So you don't have to worry about organizing essential bathroom essentials.
The shared bathroom remains impeccably clean and hygienic. With many facilities to accommodate all guests. whether you are traveling alone or in a group This property offers a comfortable stay during your visit to Thailand, Chiang Mai.
If you are looking for an affordable and comfortable accommodation option in Chiang Mai. You should check out this female dormitory. The room has four small beds. Each bed has a personal reading light, locker and power socket, meaning you can have your own space in the room while still enjoying the company of other female travelers.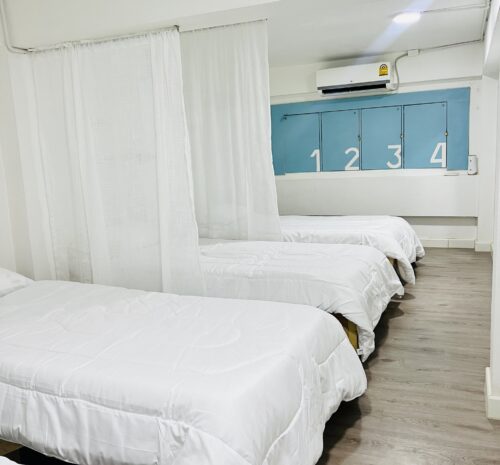 The room is clean and tidy. All beds come with bedding, blankets and towels. You don't need to worry about bringing bed linen. Because all of them are available to you for free. Shared bathroom facilities are also well maintained and cleaned regularly. To ensure that your stay is comfortable and hygienic. In addition to making the bed comfortable. The hostel also has many common areas where you can relax and mingle with other guests. There is a common lounge area with comfortable seating. The hostel also offers free Wi-Fi, so you can stay connected and connected with friends and family back home.
 Overall, this female-only dormitory is a great option for female travelers looking for a comfortable and affordable stay in Chiang Mai. with a convenient location friendly staff and friendly atmosphere It's the perfect base from which to explore all that this beautiful city has to offer.
For travelers looking for a budget accommodation option in Chiang Mai. The mixed dormitories at our hostel are a great choice. This room has 8 small beds, each with a personal reading light, locker and power socket. It offers privacy and security during your stay. The comfortable beds come with bedding, blankets and towels to ensure you a good night's sleep.
In addition, our hostel offers many facilities to make your stay comfortable and enjoyable. We have a common area where you can relax. meet fellow travelers

Our hostel is conveniently located in the heart of Chiang Mai. Close to many attractions, restaurants and markets. With reasonable price and excellent facilities. We are the perfect choice for budget travelers who want to experience the best of Chiang Mai.
An APIvoyage Hostel is situated conveniently in Chiang Mai, and offers private and shared rooms with free WiFi. It is located on the edge of a moat next to the main road of Chiang Mai City. Guests can relax in the common areas.  An APIvoyage Hostel is located 300 meters from Chiang Mai Gate, 900 meters from Tha Pae Gate, 1 km from Chedi Luang Temple and 4 km from Nimmanhaemin Road. It is 3.5 km from Chiang Mai International Airport.